Hi! I'm Magali. 
I'm originally from France but have been teaching English as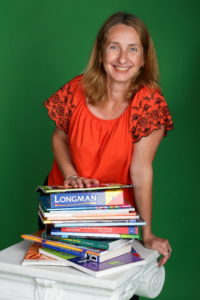 a Foreign Language (EFL) for 18 years.
After completing a degree in English Studies at the University of Nice in France, I trained as an English teacher at Sheffield Hallam University, England, where I obtained the Trinity Cert TESOL.
I then started my English-teaching career in China where I worked for 4 years, teaching English in middle schools and teacher training colleges in rural towns.
Back in Europe and to the exciting city of Manchester in the north of England, I continued my academic training in EFL and obtained the Trinity DipTESOL and a PGCE from Huddersfield University. Meanwhile, I worked as an ESOL (English to Speakers of Other Languages) teacher at The Manchester College, one of the biggest colleges in the UK, teaching English to refugees, asylum seekers and migrant workers from Eastern Europe. I also coordinated and taught on the Trinity CertTESOL, training future EFL teachers.
Since 2012, I've been teaching English in Friuli where I've been able to develop my skills further, teaching all levels, from A1 to C2, different ages and different types of courses (Business English, exam prep including IELTS, FCE, CAE, etc). I taught mainly at Keep Talking in Udine but also completed short-term contracts for IAL-Pordenone, ENAIP and San Pietro al Natisone council.
For the last four summers, I've also been working as an EFL teacher at St Brelade's College on the island of Jersey in the Channel Islands in the UK.
When I'm not teaching, I love going out for a jog in the hills of Cividale, where I live, or doing yoga, going trekking, enjoying good food and Friulano wines and spending time with my partner and our daughter.
I can offer you tailor-made lessons and assure you maximum professionalism in a friendly and relaxed learning environment.
Look forward to meeting you.